Discography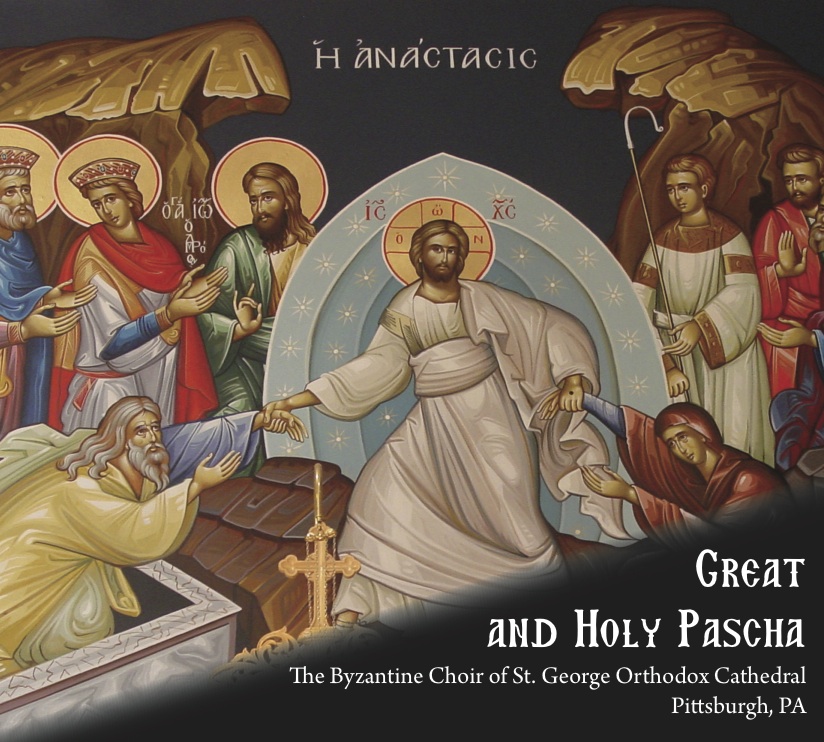 Great and Holy Pascha
Released on July 10, 2012
This is the second CD of the Byzantine Choir of St. George Cathedral, featuring the music of the Matins (Orthros) service of Great and Holy Pascha in Byzantine Chant. In contrast to the last CD, this album features a larger mixed choir, all singing from Byzantine notation, in the natural acoustics of All Saints Orthodox Church, Canonsburg, PA. There is a 24-page booklet included in this release, which includes the complete hymn text, an introductory letter about the recording, and exegesis on selected odes of the Paschal Canon. Of note in this recording is the newly composed music to the full Paschal Canon, using an adjusted translation of the Antiochian Orthodox Archdiocese of North America, with the slow Katavasias at the end of each ode, a selection of the Resurrectional Stichera from the Praises in each Mode, and a reading of the Paschal Sermon of St. John Chrysostom by Bishop THOMAS. We hope you enjoy it! And, as always: Christ is risen! Truly He is risen!
This CD was recorded live at All Saints Church in Canonsburg, PA in July, 2011. All the acoustics and ison are natural.
CDs and/or MP3s can be purchased through:
Liturgica.com (CDs and MP3s)
CDBaby (CDs and MP3s)
iTunes (MP3s)
Amazon.com (MP3s)
A Byzantine Christmas Carol: Hymns of the Christian East
Released on September 1, 2010
A Byzantine Christmas Carol is a collection of hymns from the tradition of the Orthodox Christian Church, sung in the traditional style of Byzantine Chant. The hymns are taken from the various services associated with the feasts of the Nativity of Christ and the Theophany of Christ, and are sung in English. The hymns meditate both on the themes of the feasts and on our relationship to the feasts and to God as humans of the "modern" world. The hymns delve into the Eastern Christian understanding of salvation as one of synergy with God, realizing itself in our own embodiment of the feasts, incarnating within ourselves the Word of God, and allowing God to be manifested in our lives such that our heavenly Father may look down upon us as well and say "This is My beloved Son, in whom I am well pleased."
This CD was recorded live in the Kresge Recital Hall at Carnegie Mellon University, Pittsburgh, PA in December, 2009.
Full Sample
: Track 1 - Katavasias of the 1st Canon of the Nativity of Christ
CDs and/or MP3s can be purchased through:
Digstation.com (MP3s)
CDBaby (CDs and MP3s)
iTunes (MP3s)
Amazon.com (MP3s)
Liturgica.com (CDs, MP3s, and Wholesale)
Light and Life Publishing (CDs)
Antiochian Village Bookstore (CDs)
Rhapsody (MP3s)